Special Edition Price: 260 Euros
15 Euros shipping to France, USA and Japan Addresses ONLY.
25 Euros shipping to the rest of the world.
Books deliver late November 2018
Livraison des livres fin novembre 2018
日本での販売開始 2018年11月末(予定)
Sold Out
Special Edition: Hypermarché – Novembre, the third volume in The Gould Collection, partners Japanese photographer Motoyuki Daifu with French writer Michel Houellebecq to critically explore themes of love, pain, family and daily life.
The special edition, limited to only 10 copies, includes:
• Digital print and book signed by Motoyuki Daifu
• Print measures: 22.8 x 15.6 cm (paper size); 21.6 x 14.4 cm (image size)
• Packaged in a sealed gold envelope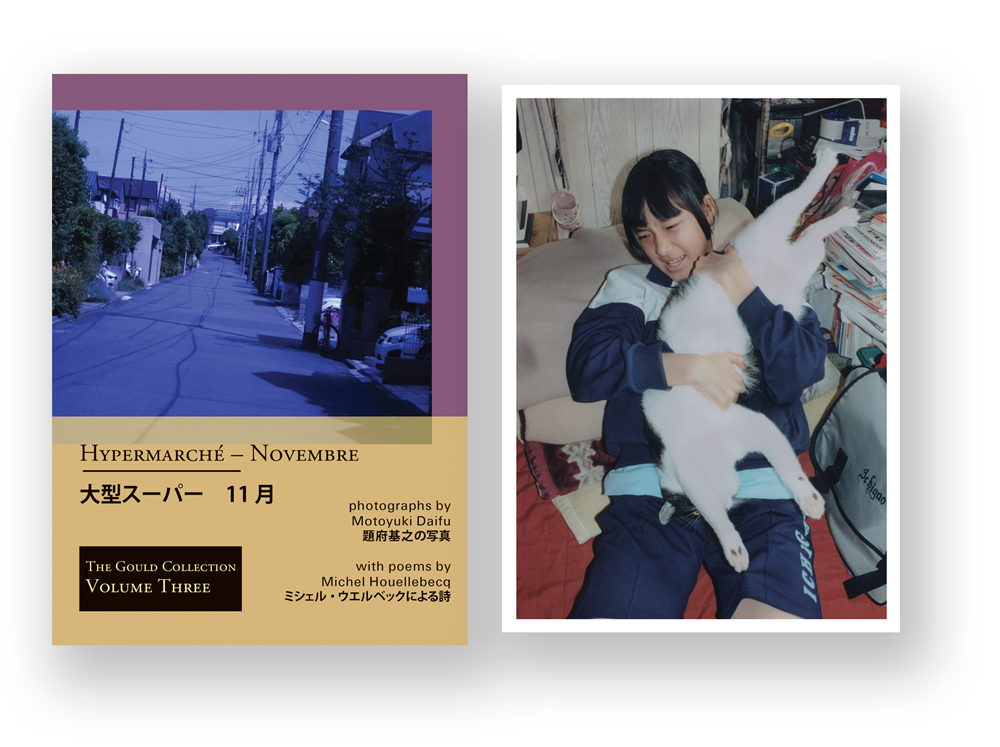 Through a probing and often humorous lens, Tokyo-based Motoyuki Daifu's photographs explore the loving bonds and contradictions that shape his family's interactions, surroundings and social spaces. Culled from his three ongoing series from 2009 to 2017—Project Family, Still Life and Untitled (Surround)—his works reveal a view of a real Japan stripped of the clichés portrayed in many western depictions. Interwoven between Daifu's photographs are five poems by critically acclaimed author Michel Houellebecq, most recently published in his Unreconciled (2014) anthology. Raw views of universal love, loneliness, tragedy, dedication and redemption, played out in supermarkets and other mundane locations, expose the highly flawed nature of modern human existence. Together, Daifu and Houellebecq draw attention to the beauty that can be found in the inescapable disorder of contemporary life.
Motoyuki Daifu (Japanese, 1985) is a Japanese photographer who studied at the Tokyo Visual Arts College, and currently lives and works in Tokyo. Since his first solo exhibition in 2008 at Nikon Salon, Tokyo, Daifu's photographs have focused on his family and surroundings, which he captures from a simultaneously comical and critical perspective. More recently, his work has been shortlisted for the Prix Pictet in photography (2013) and the Nissan Art Award for contemporary art (2017). Daifu's photobooks include Lovesody (2012), Project Family (2013) and Still Life (2016).
Michel Houellebecq (French, 1956) is the author of novels, poetry collections and essays published worldwide. He received the 2010 Goncourt Prize for his novel La carte et le territoire (The Map and the Territory). His most recent novel, Soumission (Submission), published in 2015, was an international bestseller.
Date of Publication: November 2018
Publisher: The Gould Collection (Paris and Tokyo)
Size: 24.8 cm high x 18 cm wide (9.75 x 7 inches)
Pages: 76
Images: 40 images
Binding: Exposed Swiss binding within soft cover in dust-jacket and belly band
Languages: French, Japanese and English
Edition Size: 10 special editions (500 regular editions)
Editors: Laurence Vecten, Russet Lederman and Yoko Sawada
Design: The Gould Collection
ISBN: 978-0-9973596-2-6