Volume One in The Gould Collection Series
CHANGE: Photographs by Mikiko Hara
With a Short Story by Stephen Dixon – Regular Edition
Winner of the 42nd Ihei Kimura Award
Publisher: The Gould Collection (New York City, Paris, Tokyo)
Date of Publication: September 2016
Size: 24.8 cm high x 18 cm wide (9.75 x 7 inches)
Pages: 66 and Images: 40
Binding: Exposed Swiss binding within soft cover in dust-jacket
Edition Size: 500 regular edition copies (with signed copies available)
Special Edition: 26 numbered copies with a signed chromogenic print by Mikiko Hara
Editors: Laurence Vecten, Russet Lederman and Yoko Sawada
Designer: Tadao Kawamura
ISBN: 978-0-9973596-0-2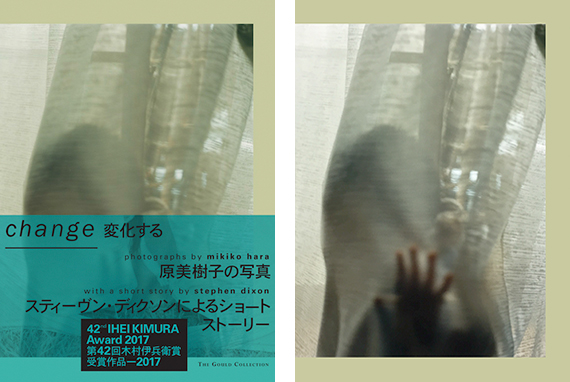 SOLD OUT

CHANGE, the first volume of The Gould Collection, interweaves Stephen Dixon's short story Change with Mikiko Hara's untitled photographs from 1996 to 2009.Isolation and social disconnect define both Dixon's story and Hara's photographs. Whether images of a bored mother and child on a Tokyo subway or dialogue that reveals missed social cues between neighbors, the people who inhabit the pages of Change try and often fail to genuinely interact with one another. Visually united through an inventive design that presents Dixon's story on iridescent sheets interspersed between Hara's color images, Change probes alienation and its role in contemporary life.
MIKIKO HARA is a Japanese photographer who lives in Kawasaki and graduated with a degree in literature from Keio University before studying at Tokyo College of Photography. Always in possession of her medium-format film camera, Hara's photographs capture the random people and places of her daily existence. Her work has been exhibited at the J. Paul Getty Museum in Los Angeles and the Tokyo Metropolitan Museum of Photography.
Further Reading:
In Focus: Tokyo (exhibition at J. Paul Getty Museum)
Mikiko Hara's Hysterical Thirteen (The New Yorker)
These Are Mikiko Hara's Days (The New York Times)
STEPHEN DIXON is a two-time finalist for the National Book Award, for Interstate and Frog, and the author of seventeen novels and sixteen collections of short stories. Born in New York City, he worked as a newsman, editor, junior high school teacher, bartender, waiter, and department store salesman before teaching writing and literature at Johns Hopkins University from 1980 to 2007.
Further Reading:
Interview with Stephen Dixon by Tao Lin (3:AM Magazine)
The Permutating Brain of Stephen Dixon (Vice)
Interview with Stephen Dixon (The Rumpus)
Asahi Shimbun announcement of Hara receiving 42nd Ihei Kimura Award. (Japanese Text)
Reviews of Change
Mikio Hara's and Stephen Dixon's Change, A Review by Robert Dunn (PhotobookstoreUK Blog)
Secret Snapshots of Tokyo's Vivid Street Life: Poetic Timing (Huck magazine)